Finely Crafted Entry Doors Installed on Homes in Polk County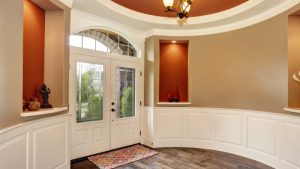 Has the front door on your home seen better days? If you're considering replacing it, you can confidently place the job into the trusted hands of Polk County Window and Door. Located in Lakeland, Florida, we are a family-owned and -operated business that installs hardwearing, American-made entry doors for homeowners in Polk County.
Exterior House Doors Made From Durable Fiberglass
At Polk County Window and Door, we know you want the most from your investment in new entry doors. That's why we install fiberglass doors. Fiberglass is a super-durable material that resists wear-and-tear damage for years on end. Our residential entry doors are also energy efficient and can improve the thermal performance of your home.
Expert Entry Door Installation Services
To start your entry door replacement project, our experts will help you design the perfect new front door for your home. Select from a diverse palette of beautiful colors and finish your new entry doors with your choice of hardware and accessories, such as sidelites. Once the design is set and your new entry door is expertly crafted, our in-house team of professional door installers will hang your new door with perfection so that it operates smoothly for years to come.
Learn More About Entry Door Replacement
For more information about our entry doors, contact Polk County Window and Door today. When you do, be sure to ask about financing offers that can make your purchase more affordable. We're based in Lakeland, FL, and serve homeowners in Polk County.