Soak Up the Sun in a Beautiful New Florida Room at Your Home in Polk County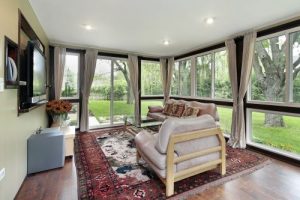 Your home has a screened-in patio where you like to relax in the sun. However, you'd prefer a little more shelter, particularly during the warmer months. If this is the case, allow Polk County Window and Door to convert your screen room into a beautiful Florida room, complete with high-performance windows. Based in Lakeland, Florida, we are a leading provider of sunroom conversions for homeowners in Polk County.
Benefits of Converting a Screened Porch to a Sunroom
Though you love the feeling of the warm sun on your skin, sometimes it can get a little too warm, causing you to retreat back into your home. At Polk County Window and Door, the windows in our Florida rooms feature energy-efficient glass that repels the warm outside air away from your home. So even if your Florida room is not climate controlled, you will enjoy a more comfortable ambience than in an exposed screen room. A gorgeous new Florida room will also add a unique element to your home, potentially raising its value.
Experts of Screen-Patio-to-Sunroom Conversions
Polk County Window and Door is a local, family-owned sunroom conversion company that brings more than 30 years of experience to our valued customers. We will deliver top-tier customer service at every step of your project, ensuring a worry-free experience as we help make your home more comfortable. In fact, we proudly maintain an A+ rating from the Better Business Bureau for our outstanding commitment to our customers.
To learn more about transforming your screen patio into a beautiful and energy-efficient Florida room, contact Polk County Window and Door today. From our base in Lakeland, FL, we serve homeowners throughout Polk County.