Offering the Industry's Most Popular Window Styles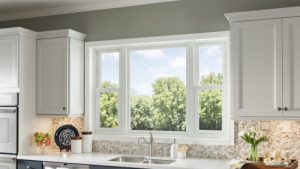 When you choose Polk County Window and Door for your window replacement project, you'll reap plenty of benefits, including improved curb appeal and energy efficiency. You'll also be able to get the functionality you want from your new windows thanks to the many window styles that are available. Based in Lakeland, Florida, and serving all of Polk County, we offer the following popular window styles:
Awning – Hinged at the top, awning windows swing upward to create an awning, which allows these windows to be open even when it's raining.
Bay – Typically composed of a central picture window bookended by two hung windows, bay windows add a unique architectural element to any home.
Bow – Comprising a series of four or more windows, bow windows maximize natural light into the home and the view into the yard.
Casement – Hinged on the side, casement windows swing open like a door. They seal tightly when closed, making them one of the most energy-efficient house window styles available.
Double-hung – Featuring two moveable sashes, double-hung windows allow plenty of fresh air into the home and are a cinch to clean.
Garden – The unique design of garden windows creates a ledge where potted herbs can be placed to catch sunlight from inside your home. They are commonly installed over kitchen sinks.
Picture – Stationary by design, picture windows frame the view of the outdoors and are exceptionally energy efficient.
Single-hung – This traditional style features a single moveable sash that is lifted to open.
Sliding – Smoothly gliding open and closed along a lateral track, sliding windows are some of the easiest to operate.
Specialty – If your home has a uniquely shaped window, we can craft a replacement window that will fit the shape perfectly.
Learn More About Window Styles for Homes
Replacement windows from Polk County Window and Door are proudly made in the USA. To learn more about our window styles, contact us today. We're located in Lakeland, FL, and serve homeowners in Polk County.